The first-ever Disney Dish Live at Walt Disney World happened November 10-13 and we had an amazing time! It's impossible to fit all of the fun times into one blog post, but we'll break down a few of them!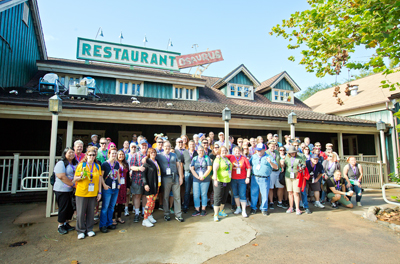 1. The People – We met so many new people and made so many new friends! We laughed together, ate together, rode rides together, and got to know Len and Jim better together! Can't ask for more than that!
2. Live Podcast Recording – Of course we've all heard Len and Jim's podcasts before, but seeing them live and in person doing their thing was surreal in a good way—like if this is a dream, don't wake me up! Eating Mickey-shaped food while we listened was just the icing on the cake!
3. Jingle Cruise – Len and Jim graciously rode Jingle Cruise twice so everyone could join in on the fun for a group ride with extreme audience participation. With two cruise skippers who nailed their jobs, it was a ride to be remembered!
4. The Q& A – While we all stuffed our faces with a private breakfast buffet at Restaurantosaurus, there was no question that Len and Jim shied away from. Even one about a certain attraction that's taking a suspiciously long time to reopen… In addition to their candidness and easy-going style, there seems to be no limits to their knowledge about Disney!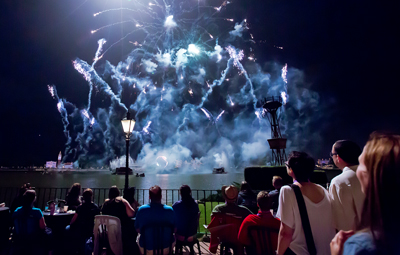 5. The Dessert Party – One may think that desserts would be the highlight of a dessert party, but once Illuminations started, we realized that wasn't it! The view was absolutely amazing!
6. Private Frozen Ride – After the dessert party, while most guests were being escorted out, we were escorted deeper into the park, to our own private ride on Frozen Ever After! Walking on to an empty ride with friends all around is definitely the best way to ride something at Disney.
7. Walk Abouts – The Walk Abouts were a great activity for anyone who wanted to join in. We were once again astounded by Len and Jim's knowledge while we were unexpectedly given a glimpse into what the upcoming Star Wars land could hold! It was exciting to say the least!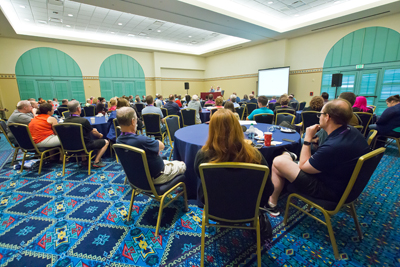 8. Ugly Christmas Sweaters – You can never have too many ugly Christmas sweaters at a Christmas party. And the participants did not disappoint! From light-up sweaters, to Yeti sweaters, to pictures of Len and Jim on a sweater, these were sure to be classics for years to come.
9. Late Nights at Rix – Sometimes a casual meet up is all you need! Len and Jim very graciously stayed up until all hours of the night meeting people and doing what they do best – telling stories. No one was sad they came.
10. Tambu Lounge – Melekaliki Cocktails, nachos and new friends were the perfect way to start a Christmas party!
We really can't say enough how much we enjoyed Disney Dish Live at Walt Disney World. We don't have details on the next Disney Dish event yet, but we will post them here as soon as we know! We can't wait!