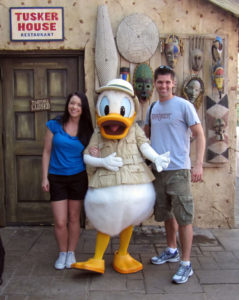 Some of my favorite memories growing up were making trip countdowns to Walt Disney World with my mom using our own hand drawings of Disney attractions.  While this didn't awaken my lifelong calling to the art world, it did lead me to a great passion for travel.  I am so glad that I had the opportunity to travel while I was growing up, and it just so happened that we traveled to Disney a lot!  I have been to Walt Disney World over thirty times and stayed at nearly every resort on property.  Additionally, I have traveled to Disneyland, Tokyo Disney Resort, Disneyland Paris, and sailed on the Disney Cruise Line.  My goal is to visit every Disney park around the world!  From the early planning, to the anticipation of the sights, smells, and sounds of Disney, to the excitement of arrival day, I love all stages of a Disney vacation!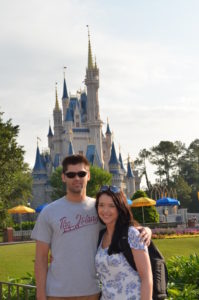 In 2008, I met my lifelong travel partner, my husband, Jordan.  I took him on his first trip to Walt Disney World.  Together we have gone on several Royal Caribbean cruises, spent two weeks in Japan, spent three weeks in Europe (including a two-week Viking River Cruise), and have traveled to numerous cities throughout the United States.  In 2016, we welcomed our first son, Lincoln, and we cannot wait to travel with him!
As a graduate of the Travel Institute and the College of Disney Knowledge, I want to use my love for and knowledge of travel to help you and your family plan your next vacation.  Traveling is truly a passion of mine, and I love to discuss and plan for all various kinds of vacations.
The only good thing about a vacation coming to an end is that it means that I get to plan for my next vacation.  I would love to help your family in planning for your next vacation, too!
Contact Rachel today!
Rachel@StorybookDestinations.com
1-423-618-0433