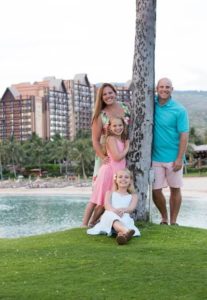 My very first memory is from when I was just 18 months old. I was sitting in my stroller, and there was a big mouse in front of me. I had my arms spread out wide for a hug, and so did the mouse. And yes, of course that mouse was the one and only Mickey!  I think it's pretty safe to say that moment set a Disney filled future into motion!
As a child, I visited Walt Disney World a number of times on family vacations. I introduced my husband to the happiest place on earth for the first time as an adult, and we could not possibly have had any more fun!  When our daughters were 2 year old and 9 months, we took our first family trip together. As if we didn't love Disney enough ourselves, seeing the wide-eyed wonder in the eyes of our children had us hooked for life – there really was no turning back now.
The vacation passion opened my eyes to a new opportunity, and I set out to help others find the magic we cherished from our Disney vacations. I have graduated from the Disney College of Knowledge, become a Beaches and Sandals Certified Specialist, and a Certified Travel Associate. As Walt Disney said, "We keep moving forward, opening new doors, and doing new things, because we're curious and curiosity keeps leading us down new paths." Life is busy, but I adamantly believe that carving out time to travel and experience and learn with the people you love is one of the most important things you can do for yourself – you cannot put a price on memories!!!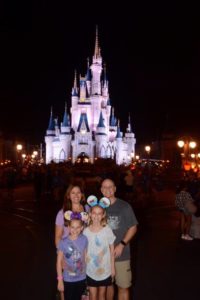 That mouse….well he's family to us.  So do I ever get annoyed when people say "You're going on a Disney vacation again?" Nope! Because we've been so lucky to discover all the different kinds of magic Disney destinations have to offer.  We've walked in Walt's footsteps where it all began in Disneyland. We've sailed on the actual happiest cruise to set sail with the magnificent ships of Disney Cruise Line.  We've discovered magic in a whole new world at our ultimate paradise of Aulani.  We've explored and made unparalleled memories together with Adventures by Disney.  It is important to me to keep experiencing all that the amazing Disney Destinations have to offer, so I can use my firsthand experience to guide clients to a magical journey of their own!
Thanks!!
Contact Heather today!
Heather@StorybookDestinations.com
1-973-479-9393