Let's face it.  We've all had the thoughts when we are on our WDW vacations how blissful and great life would be if we lived near Disney World?  Who would not want to live close to the most magical place on earth, right?  Some of us are fortunate to have the opportunity and some will wait it out for careers, kids to finish school, etc.  We were fortunate this past summer to make the move to Orlando as all the pieces fell into place.  We didn't move here just to be close to Disney but it was certainly an added benefit.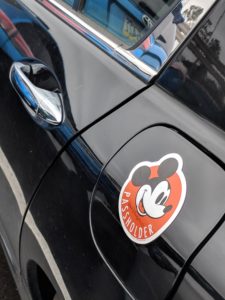 Many of the popular WDW forums have entire sections on what it is like to live here.  It is a popular topic and many people have asked me since we have moved what it's like.   What can you expect if you ultimately make the move?  Bottom line- get ready for a very different Disney experience.  There are some great advantages and disadvantages so let's explore some of them…
Advantage- You can go whenever you want as long as you have an Annual Pass and it isn't blacked out.  This is assuming you have an Annual Pass.  There are great options to obtain them and since you are a Florida resident you can do monthly payments.   But you need to watch crowd levels and wait times as it can impact a nice stroll through the parks.  We went one night recently when crowds were supposed to be low and it was very crowded.  We only got to do three attractions before heading out but that was OK because we knew we would be back and not have to wait long to return.
Disadvantage- Money!!!   But we live here so we save money on no WDW vacations, right?  Yes, but the costs can rack up if you go and eat dinner in the parks or get a souvenir or a snack each time you go.  We have taken to eating dinner at home and bringing water bottles from home.  Sometimes we plan to eat in the parks or Disney Springs but we always plan it out to limit purchases.  On vacation you budget your spending but if you live here there are many temptations.   Our girls have learned to save some allowance money for a treat in the park if they know we are going a particular night.  If you aren't careful you could spend on food and snacks in one month what you could spend on an entire vacation.
Advantage- You can grab last minute Fastpasses (even for popular attractions) and off you go!  Recently I got FP+ for Flight of Passage and the time period started  a half hour after I got off work and the girls were out of school. Could we get to Animal Kingdom and make it to the line?  I could not waste this FP+ as the girls hadn't ridden yet.  It is a strange feeling sitting in traffic trying to get from work to AK and using the cry- "please get out of my way! I have a FP expiring in 30 minutes!"   But it makes for an interesting life living so close.  And we made it to the FOP with 5 minutes to spare.   It is called living on the edge…
Disadvantage-  Life is life here too in Central Florida and there are jobs, school, errands, appointments, and more.  Life does not cease even when you can hear Magic Kingdom fireworks from your house.  You still have to get up and go to work and the kids have school. So all the times you think you will be going to the park – cut them in half.  You have to work and will be tired most days and not wanting to fight crowds ,the parking lots and trams.  And speaking of parking lots, sometimes I miss the resort buses.  The parking trams and in and out of the parks depending on time of day is not fun and can get hectic.  There are so many times I plan to meet a friend or fellow Storybook team member and I just can't make it.  Life gets in the way!
Advantage-  And this goes with having an Annual Pass and being a Florida resident- you can get great resort rates.  They don't come up often and they may not match when you want to have a "staycation" but it is great to pack an overnight bag and head off.  You haven't driven far and you know where you are going. You check-in and go about your mini-Disney vacation.  And you get the resort TV stations that you miss when you live here.  After a day in Epcot it is great to go home to your own bed but we do miss going back to a resort and watching Stacy and the Must-Do's!
I could go on and on with this list and as we live here longer the list will grow.  We can't wait to take it all in and continue to explore.  Every once in a while I tell the family we need to explore the other places of Central Florida and we do.  But that pixie dust somehow points us in the direction of the most magical place on earth!     What an adventure…
– Cameron